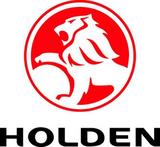 ___

More Power, More Torque, More Refinement For New Commodore Range
More power, more torque and more refinement are simple powertrain messages emphatically delivered by the 2006 range of Holden Commodores.
____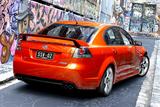 VE Commodore is Holden's most powerful range ever, with peak power and peak torque increasing on Holden's advanced all-alloy V6 and V8 engines.
Powertrain engineers have also worked to improve powertrain efficiency by ensuring engines already recognised for relative economy continue to deliver strong results in real world use.

The 6.0L Generation IV V8 now delivers standard peak power of 270 kilowatts and peak torque of 530 Nm as measured under the international ECE standard.
Holden continues to offer two versions of the advanced Australian-built 3.6L Alloytec V6, delivering peak power of 195 kilowatts and 180 kilowatts respectively.
___
Both engines have benefited from major programs to reduce noise, vibration and harshness without diminishing the performance for which they are renowned.
GM Holden Engineering Group Manager - Engines and Transmissions, Simon Cassin, said powertrain engineers had ensured that VE was 'the finest car we could produce off the mark'.
"Driveability was a big focus which means better launch feel, responsiveness and torque delivery," Cassin said.
"We have more power and more torque on every engine version plus the big benefit of an even flatter torque curve on the Alloytec V6.
"We had the advantage of working with high quality, proven properties in our V6 and V8 engines and were able to make improvements rather than starting from scratch."
___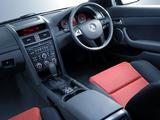 Holden Director for Integration and Experimental, Ian Butler, said Holden had pursued major improvements to part-throttle response or launch feel across the VE Commodore range. The launch feel of the Chevrolet Corvette had been a target for Holden performance models.
"Holden has always produced cars with exciting performance but this is not only about zero to 100km/h or zero to 400 metre times," Butler said.
"Part-throttle performance is key to defining the takeoff feel of the car as a high percentage of driving is typically at less than 20 per cent throttle."


Alloytec V6
___
Introduced in August 2004, the clever all-alloy engines have been driven forward with the benefit of two years' experience in Australian driving conditions.
Cassin said the Alloytec engines represented tremendous value for customers, with increased performance from new variable intake manifolds on both engines and free-flowing exhausts.
"The lightweight, all-alloy Alloytec is an advanced powertrain, operating with double overhead camshafts, four valves per cylinder and other technology to improve efficiency," he said.
"It provides variable valve timing to ensure power and economy are equally delivered as required by the driver.
A range of improvements were made to modify engine noise including a new camshaft drive chain design, newly tuned harmonic balancer, new engine covers to manage acoustics and revisions to induction and exhaust systems to create the 'right' note while meeting strict pass-by requirements.


Generation IV V8
___
Cassin said the introduction of a new all-alloy 6.0L V8 to Holden performance models in January 2006 had greatly assisted powertrain development for VE.
He said the V8 engine at VE, codenamed L98, was a Holden-specific application from GM Powertrain which was almost identical to the L76 engine introduced to meet Euro III compliance at the start of 2006.
Increased peak power from 260kW to 270kW, the highest ever output offered on a standard Holden vehicle, comes from a high-flow exhaust system with dual 2¼-inch pipes and four outlets.
"We've taken a world-recognised performance powertrain and made it even better," Cassin said.
"The combination of our hero V8 with the new six-speed automatic or upgraded six-speed manual is something to behold."



Refinement


Vehicle Systems Engineer – Chassis and Powertrain Integration, Andrew Holmes, said Holden had new initiatives throughout VE Commodore to reduce noise and complement engine improvements.
Holmes said a far stiffer and stronger engine cradle significantly reduced noise and vibration as well as isolating engine noise. Engines would be rigidly attached at six points rather than four, adding torsional and bending stiffness to the car and improving crashworthiness.

Various other measures have been taken to reduce vehicle noise. They include a new acoustic laminated windscreen, new engine hood insulator and sound deadening packages behind the engine bay and between the transmission and transmission tunnel. In addition, all VE carpets are layered with a high-tech acoustic insulation material to deflect road noise.

Fuel economy
Holden Director for Integration and Experimental, Ian Butler, said Holden had achieved competitive fuel economy outcomes despite mass and power gains across the range.



VE Commodore fuel economy measures included


· A new and more efficient differential
· Regulated voltage control to reduce alternator power consumption
· Tyre pressure increase from 220kPa to 250kPa to reduce rolling resistance
· Engine control system with digital sensors for crank and camshaft positions

"Holden has taken advantage of every possible opportunity to improve fuel economy, having made clear decisions that safety and technology could not be compromised with this car," Butler said.
"We believe we have found the best possible balance and achieving competitive fuel economy with so much extra safety, technology and features is a significant achievement."



Exhaust systems


All V8 engines are matched to a dual exhaust, quad outlet system; all High Output Alloytec engines are matched to a dual exhaust, dual outlet system; and other Alloytec engines are matched to a single exhaust, single outlet system.
Vehicle Systems Engineer – Chassis & Powertrain Integration, Andrew Holmes, said the all-new architecture also allowed Holden to pursue a clean sheet approach for exhaust systems.

"We focused on ensuring low back pressure and improving the burble in all exhaust systems, particularly the V8," Holmes said.
"Up to 12 per cent lower back pressure assists significant increases in gas flow efficiency which helps deliver power and torque increases."

Service intervals
Service intervals for all Holden engines are now 15,000 kilometres. The V8 engines were previously 10,000 kilometres.

VE COMMODORE POWERTRAIN – HIGHLIGHTS
3.6L Alloytec V6
· More aggressive pedal map for a livelier and more responsive launch feel
· New variable intake manifolds on both engines to increase peak power and peak torque
· New 7.7mm inverted tooth chain and newly-tuned harmonic balancer to reduce drive noise
· New diecast oil pan isolates driver from noise and vibration
· New Bosch E77 engine control system with digital sensors for crank and camshaft positions
· Front and rear oxygen sensors provide better cold start and cold running performance and assist fuel economy
· New engine covers feature acoustic insulation
· High Output Alloytec matched to dual exhaust with dual outlets
· Alloytec matched to single exhaust with single outlet
· Internal muffler design and resonators for improved noise quality



6.0L Generation IV V8 (L98)


· Design changes to exhaust manifolds support current Euro 3 requirements
· Performance-oriented calibration
· High-flow exhaust
· Matched to 2¼-inch dual exhaust with quad outlets
· New single-piece engine cover with acoustic insulation



New Holden Commodore








For more info. Visit:



http://www.holden.com.au/
(Info. Holden)